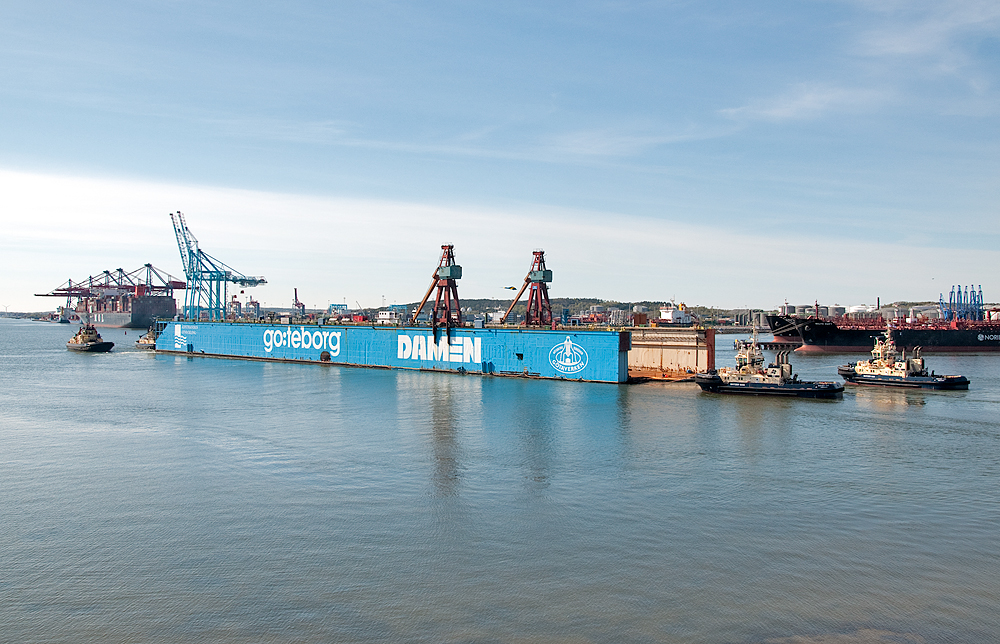 The end of an era – Gothenburg has lost a landmark.
The big repairdock of DAMEN SHIPREPAIR GÖTAVERKEN, with a length of 254 meters, 34 meters in width and with a lifting capacity of 25 000 tonnes, has over the years become a prominent part of Gothenburg's cityscape. In the summer of 2015 it was sold to Dutch Marine. However, a move to another location was postponed on two occasions due to bad weather, but on 6 May 2016 the 6-7 days towing operation to new assignment at Damen Shiprepair in Dunkerque began.
The basis for Götaverken AB was established back in 1841 and was the first of the three major shipyards that were active during the Gothenburg shipyard era in the 1800s and 1900s. It was also the shipyards that survived the longest.
Through the years the three shipyards built countless ships and employed generations of Gothenburgers. The expansion continued steadily after the start and despite sometimes difficult economic periods, Götaverken delivered 180 ships between 1866 and 1917.
In 1918 a floating dock was taken into use, which meant that the shipyard could handle even the big ships from Swedish American Line. Götaverken became Gothenburgs, and finally, the world's largest shipyard in 1933 with 47200 grt launched.
Götaverken peaked in 1965, with 7000 employees. After a difficult period during the WWII, there was great demand for new and larger ships, and Götaverken expanded considerably. Among other things, the shipyard went over from riveting to welding. Due to demands for expansion Götaverken planned a new shipyard facility closer to the coast, and in 1963 inaugurated Arendal Shipyard. However, despite the large investments they had made, the three shipyards was being outcompeted by their foreign competitors, and in the early 1970s Götaverken was bankrupt. Thousands of employees were dismissed, and the Swedish government took over management of the shipyards and began gradually to phase out operations.
Götaverken went on to mainly engage in ship repair and fabrication of offshore platforms. But also the offshore market began to falter and Arendal Shipyard was therefore finally closed in 1989. The last ship launched in Gothenburg was the icebreaker Oden the same year.
However, Götaverken was restarted in 1993 – this time as a separate company called Cityvarvet with 70 employees. Since then, more than 1,000 orders concerning repairs, maintenance and renovation of various ships has been completed. In 2000 the company was taken over by the Damen Shipyards Group, based in Holland. They continued operations until May 2015.